April 2015
— LATEST NEWS & EVENTS —
 Registration open for 20th annual Communicators Conference!
At last year's Communicators Conference, we focused on storytelling, storymaking and storydoing. This year, for the 20th annual Conference, we're taking it one (big) step further: We, the storytellers, are heading to the C-suite. So grab your executive, and join us for 2015's ultimate Master Class. Registration is now open!
Thought Leaders, Trendsetters and Trusted Advisors: Storytellers and the Modern C-Suite
The Nines – Portland, Oregon
Conference check-in starts at 8:00 am
Click here today to read about the keynote speakers and register!
Join the IABC Oregon-Columbia Board!
New term starts July 2015
Are you looking to develop your leadership skills? Do you want to help our IABC chapter be a valuable resource for our local professional communicators community? Join the IABC Oregon-Columbia Board and do both!
The IABC Oregon-Columbia Board is seeking new members. Board membership is a great opportunity to develop your leadership skills and build your professional network. It also looks great on a resume!
Board responsibilities vary, and may include managing the IABC newsletter; coordinating membership communications and engagement efforts; doing website, social media and PR management; planning programs and events, and more. Board members serve a one-year term. The next term starts July 2015. We need you!
For more information, contact Liana Wichser, Board President or Paul Canaday-Elliott, VP Membership.
 IABC member profile: Jim Endicott
by Paul Canaday-Elliott, VP Membership, IABC Oregon-Columbia
This month we are pleased to introduce what we hope will become a regular feature:  a profile of one of our chapter members. In this edition, we profile Jim Endicott.
Jim runs Distinction Communication, a nationally recognized coaching and consulting service that specializes in presentation delivery skills training, strategic message development, and presentation design consulting. Jim is also a highly sought-after speaker and has been rated as an IABC International "all-star" speaker for over 10 years. In fact, Jim will be one of the featured speakers at the upcoming Communicators Conference in May!
How did Distinction Communication come to be?
I launched my business in 1998. I came out of the high tech and computer graphics industry and was a monthly columnist for Presentations magazine at the time.  During all those years, I noticed that most presenters focused on the giving part of the presentation. Consequently, people became preoccupied with things like the latest presentation software, the brightest projectors or the best image libraries to raise their game.
At Distinction, we take a more systemic look at the art of communicating. Is the message shaped in a way that resonates with their audience's needs and issues? Do their visuals actually accelerate the understanding of an idea? And most importantly, does the flesh and blood communicator drive the message deep into the hearts and minds of his or her audience with some well-honed skills or are they just goingthrough old, rote habits of delivery?
We work with our clients to make sure that their voices are the ones that stand out at the end of the day.
You've seen a lot of changes in technology and how people communicate over the years. What have been the biggest changes in the way that people present ideas or information?
Projectors are smaller and brighter. People can present from iPads and smartphones. Web resources can be accessed wirelessly on the fly. But presenters themselves have changed very little.  Many still experience a fair amount of anxiety about presenting. And while very few are really terrible presenters, far too many are simply average and their important messages get lost in a sea of competing voices.
What are the most common obstacles or blocks that prevent people from being better communicators?
The challenge is typically about how people prepare. Presenters spend the bulk of their time preparing the what part of the presentation – what are they going to say or what will their PowerPoint look like. However, when we ask them how they want to be perceived, they use words like "confident," "engaging," "passionate," "credible." These are not what words; these are how words, and are a direct reflection of a presenter's personal toolkit of delivery skills.  Unfortunately, these critical skills are too seldom honed in a meaningful way.
What topic are you most often asked to talk about when you are invited to be a speaker?
Probably the most requested topic these days is around the art (and science) of leadership communication. We all know senior leaders who are smart, seasoned industry experts who nonetheless struggle to inspire, challenge or motivate their audience. These days we simply expect our leaders to do more than just inform us. Corporate communications people are constantly on the lookout for resources that can help them help their leaders lead more effectively.
And finally, what role do you think IABC plays for professional communicators in their professional and personal development?
IABC is a wonderful resource for the professional communicator. I've attended many international IABC conferences and there is something for everyone. Being heard above a sea of competing voices is no easy task these days.  IABC provides communication professionals with important tools and resources to help them be that voice that is heard above the rest, both internally and externally.
 Did you attend Cultivate Critical Connections in February?
By Anna Browne, Senior Editor and Writer for The Standard.
No matter where you are in your career, it's still your career. Where you've worked and what kind of communicating you've done is defined by your unique experiences. So whether you've had a lot of years of experience or only a few, it's always fascinating to hear about the careers of other communicators. What are they working on? What deadlines and challenges do they face? How much does social media play a role? How much critical planning or measurement do they really do?
I found the answers to these questions and much more at the February event in the Melody Ballroom. Approximately fifteen communicators attended. It was a great location and the time could only have been better spent with increased attendance so more of us could share our stories across the table.
The five topic choices were communications planning strategies, internal/employee communications, metrics and reporting, cultivating strategic relationships and getting skin in the game using newer channels. There weren't enough of us to complete all five tables, but the tables that filled enjoyed lively conversation and a spirited exchange of questions and answers until our time was up.
I loved the concept of a self-directed professional learning opportunity. It was like an IABC or PRSA conference in one room with the tables representing the different workshops where you could  participate and learn. The best part was the flexibility to change tables or stay and explore the topic you were discussing. It was also fun to connect with old friends and meet new people through these conversations. And I learned I will never complain about a tight deadline again after listening to the people from Portland Center Stage!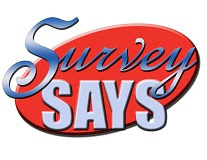 The value of IABC membership
by Paul Canaday-Elliott, VP Membership, IABC Oregon-Columbia
At the start of the year, we sent out a survey to members asking, "What do you value about your IABC membership? What do you need? What can be better?" Here are the results so far.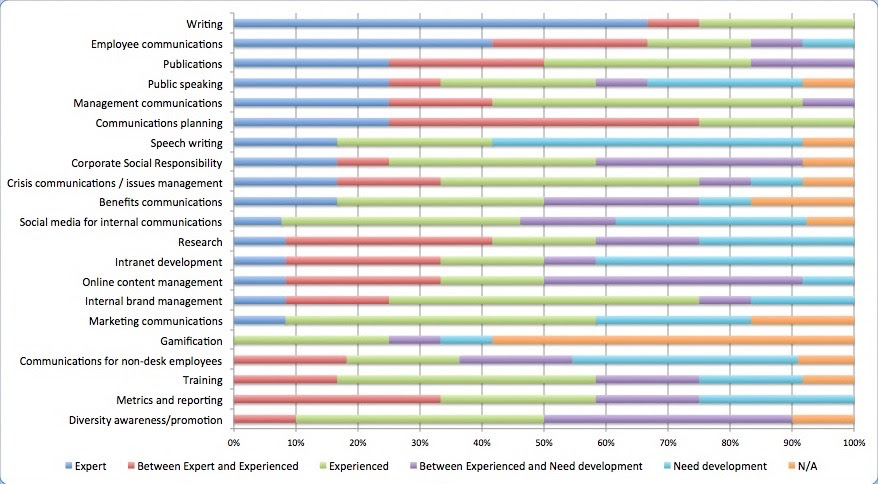 Areas of expertise
We asked members to rate their level of expertise on a variety of communications-related subjects, such as communications planning, corporate social responsibility, crisis communications, and metrics. Not surprisingly, writing was listed as the #1 area of expertise, followed by employee communications, communications planningand publications. Areas in which members felt they had the most room for growth were intranet development and speech writing. Interestingly, nearly 60% of respondents checked gamification as not applicable.
IABC Membership Benefits
We asked members to rate both their level of interest and their level of satisfaction with the benefits that IABC membership offers. Here is a snapshot of those results.
Level of Interest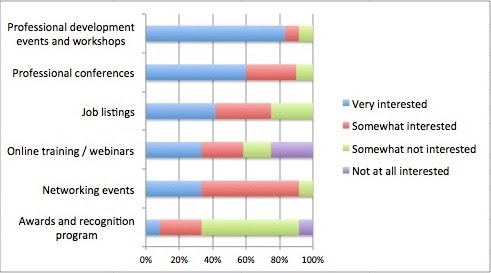 Level of Satisfaction
Interest and satisfaction levels in professional development events, workshops and conferences remain high. Members also expressed a high level of interest in job listings and networking opportunities but had mixed reviews in terms of their level of satisfaction. Online training / webinars had the lowest level of satisfaction.
Topics for Future Professional Development Programs
Finally, we asked members to vote for the topics that they most want to hear about in future professional development programs. The results are in the table below.
Even though members ranked communications planning as being among their top areas of expertise, it still remains the number one topic of interest for workshops and events. Social media for internal communications, online content management, and crisis communications / issues management also ranked high.
Conclusions
Relevant, engaging professional development opportunities and workshops remains a key priority for our members. The OCIABC Board is committed to organizing events that will provide our members with insight and practical knowledge while also enabling them to expand their professional network. Thank you to all who responded to the survey. For those of you who have not yet done so, we encourage you to let us hear
your
voice;
click here to take the survey
. Your feedback is important and valuable!
Member Connections
Are you seeking to connect with other Oregon-Columbia IABC members about something specific?
As a professional communicator, we all encounter opportunities from time to time where we feel we need to bounce ideas off others or seek specific input regarding a communications challenge we are facing. Now you have a chance to connect with others about something of interest to you! Email us your request
and we'll include it in our next monthly newsletter*.Email request to or-dev@iabc.com.
This month's request comes from Linda Baker. Linda is currently on the OCIABC Board and believes there is truth in the current business phrase: "Change is the new normal."
Are you a change leadership communications professional?
Linda seeks to connect with communicators who are a critical part of their organization's change leadership team. She would like to discuss change leadership communication methodologies and valuable certifications. Connect with Linda via email at lindakaye06@gmail.com.
*Requests must meet OCIABC Board standards.